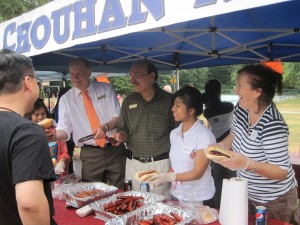 The Burnaby-Edmonds riding extends south of Imperial Street all the way to the Fraser River and from Boundary Road in the west, all the way east to 4th street.
It's a very diverse constituency in many ways. At last count in 2006 we were about 49,190 people, 47,040 of which are Canadian citizens.
Almost 60 percent of Burnaby-Edmonds residents are visible minorities and around 40 percent are of East Asian ancestry. Additionally we have community members of South Asian, Filipino, Korean, Italian, Serbian, Japanese, German, Scottish, Portuguese, Polish, and Iranian ancestry. These are just a few of the cultural origins that make up the strong multicultural mosaic of Burnaby.
Burnaby-Edmonds is home to many beautiful parks including Byrne Creek which drains a large urban watershed, runs through a beautiful ravine park and salmon spawning habitat and finally feeds into the nearby Fraser River.
Economically Burnaby-Edmonds has a strong retail sector, but many of our residents also work in a wide variety of sectors such as health care, social assistance, manufacturing, tech services, education and construction. Burnaby-Edmonds' thriving and diverse business community is comprised of small and large businesses including clusters in film/digital/television, biotech/life sciences, and alternative energy.  We are also fortunate to have many thriving local restaurants serving a wide variety of delicious cuisine from around the world.
While Burnaby-Edmonds does struggle with issues of poverty and homelessness, we are a vibrant and strong community with a wealth of local organizations, seniors centers, and advocacy groups all working to make our lives better.